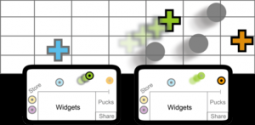 Smarties - The Smarties Input System
Date de dernière version : 20 octobre 2017
Responsable :
CHAPUIS Olivier
The Smarties system provides an easy way to add mobile interactive support to collaborative applications for wall displays.
It consists of (i) an interface that runs on mobile devices for input, (ii) a communication protocol between the mobile devices and the wall application, and (iii) libraries that implement the protocol and handle synchronization, locking and input conflicts.
Each mobile device features a set of cursor controllers (``pucks'') associated with keyboards, widgets and clipboards. The pucks control cursors on the wall application, or specific content, and can be shared among users. Developers can customize the mobile interface from the application code.
Pour en savoir plus:
http://smarties.lri.fr/
Logiciel - Licence :
GPL
Activités de recherche
Interaction Homme-Machine
Ingénierie des systèmes interactifs
Membres
BEZERIANOS Anastasia
Equipe
Informatique Centrée sur l'Humain
Equipe-projet Inria
ILDA