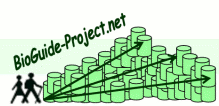 BioGuide - Guiding scientists through biological sources
Date of the last release: 01 January 2013
Person in charge :
COHEN-BOULAKIA Sarah
BioGuide/BioGuideSRS : this software helps the scientists choose suitable sources and tools, find complementary information in sources, and deal with divergent data.
Authors: Sarah Cohen-Boulakia, Christine Froidevaux and Susan Davidson (University of Pennsylvania).
Reference : Sarah Cohen-Boulakia , Olivier Biton , Susan Davidson , Christine Froidevaux, BioGuideSRS: Querying Multiple Sources with a user-centric perspective, Bioinformatics, March, 23(10), 1301-1303, 2007.
More information:
http://bioguide-project.net/
Software
Research activities
Information integration
Bioinformatics
Members
FROIDEVAUX Christine
COHEN-BOULAKIA Sarah
Group
Bioinformatics