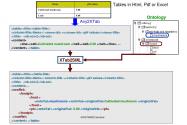 XTAB2SML - Tool for ontology driven semantic annotation of data tables.
Date of the last release: 26 March 2006
Person in charge :
SAÏS Fatiha
This tool implements an ontology driven method for semantic annotation focused on data tables. This method is completely automatic and guided only by the domain ontology. The result of the semantic annotation is represented in the SML (Semantic Markup Language) format that is defined in the IASI-Gemo team. It is an XML format where the majority of tags and values are coming from the domain ontology.
More information:
http://www.lri.fr/~sais
Software
Research activities
Semantic Web
Members
PERNELLE-MANSCOUR Nathalie
SAÏS Fatiha
Group
Large-scale Heterogeneous DAta and Knowledge