World in a Bottle (WoB)
Short Presentation
"World in a Bottle" is a robot's simulator written in C++ and taking advantage of OpenGL library. Currently Kheperas are privileged but the simulator design is open to all robots. There is a quick tour of advandages and limitations of our simulator.

Advantages :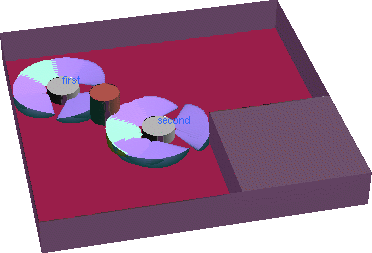 Real time 3D display of your simulation. including sensors view (display can be disable to achieve better simulation speed).
You can easily define your environment (walls, cylinders...) and read/save them.
You can put as many robots you want in the simulator.
You can take the control of a robot during the simutaion using the keyboard.
Simulation of IR proximity sensors both in active and passive modes.
Simulation of Camera 1D and 2D.
Simulation of moving obstacles.
Writting a

controller can be easily performed in C++ and require no knowledge on the simulator's structure

(see Tutorials).
You can

write your controller in any language

since the is the possibility to run the simulator in server mode. That is you can give your orders and receive sensors results using a socket. You just have to be able to read/write a socket in your favorite language.
You can transpose your controller in the real world just by pressing a key. That is your controller will give orders to a real robot. At this time only kheperas allows this transposition but if you want to do it for an other kind of robots, just send us specifications of the transmission protocol. Just an other point : life is harder in the real world because you can only request value of real sensors (i.e. you lose the ability to request you exact position or to detect a collision).
The simulator is designed to be interfaced with EO (a genetic elvolving library). So it is easy to evolve controllers but you sould go and see the EO web page and Tutorials.
Works both under

Linux and Windows

.
Limitations :
All simulated robots have only two whells (easy to bypass but need some knowledge on the simulator's source code). Collisions have a minimalistic gestion : robots cannot slide on wall or on an obstacle. ( Can be modified but you should have a good reason to do so or be persuasive ;o).
Gestion of the gripper is minimalistic : the robot can grip and release immediately, never fails to grip when the object is in the good area and there is no gestion of the new 3D form of the robots. This point is really hard to improve.
The simulator can only control one real khepera (using serial port). I don't know how to suppress this limitation.

Download
You can download a daily
snapshoot of the cvs of WoB
. This release is made under GPL.
Acces is now open. You can ask me for bugs, difficulties and new features (don't forgtet this is still a beta version).
Contact