Michel Beaudouin-Lafon
OnePub - Single-Source Collaborative Publishing
---
ERC Proof-of-concept - 2023-2025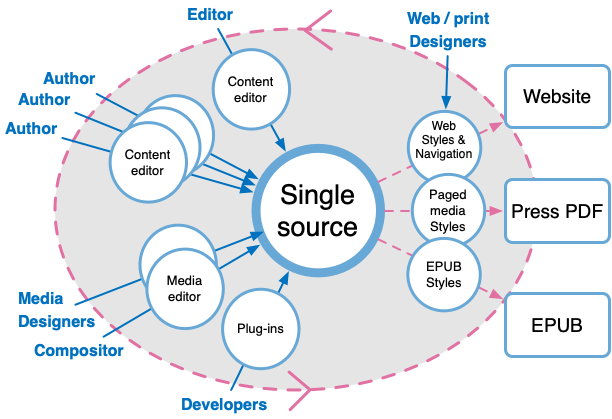 Book publishing involves many stakeholders and a complex set of inflexible tools and formats. Current workflows are inefficient because authors and editors cannot make changes directly to the content once it has been laid out. They are costly because creating different output formats, such as PDF, ePub or HTML requires manual labor. Finally, new requirements such as the European directive on accessibility incur additional costs and delays.
The goal of the OnePub POC project is to demonstrate the feasibility and value of a book production workflow based on a set of collaborative editing tools and a single document source representing the "ground truth" of the book content and layout. The editing tools will be tailored to the needs of each stakeholder, e.g. author, editor or typesetter, and will feature innovative techniques such as Textlets and Transitionals from the PI's ERC project ONE. They will all modify the same source, so that any change can instantly and automatically be propagated to the different output formats. They will also enable new capabilities such as interactive content. Real-time collaborative editing of the "ground truth" with dedicated tools will save time and therefore cost.
The project will focus on textbooks and academic publications as its testbed because they feature some of the most stringent constraints in terms of content types and content layout. They also run on tight deadlines, emphasizing the need for an efficient process. OnePub will define a unified format for the document source, create several collaborative document editors, and develop an open and extensible architecture so that new editors and add-ons can be added to the workflow. Together, these developments will set the stage for a new ecosystem for the publishing industry, with a level-playing field where software companies can provide components while publishers and their service contractors can decide which components to use for their workflows.
---
If you are interested in participating in the project, please contact me at jobs@erc.on.
---
This project builds, among other things, on some of my previous work, most notably:
---
Address
LISN - Bâtiment 650
Université Paris-Saclay
91405 ORSAY Cedex
FRANCE
e-mail : mbl@lisn.fr
tél : +33 1 69 15 69 10
fax : +33 1 69 15 65 86
How to come to LISN.